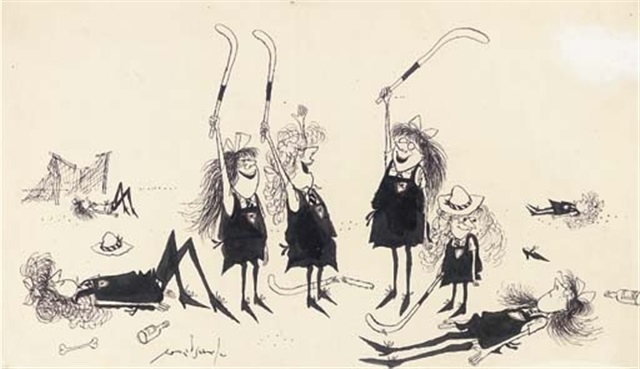 Last Wednesday I wrote about Miss Monica Tebbs, who was Senior Mistress when I was at a co-ed boarding school in Wilhelmshaven, Germany.
Fast forward to around 28 or so years ago, when some of the 'previous pupils' set out to form an Association, called 'The Wilhelmshaven Association' or 'TWA' for short. They undertook the mammoth task of trying to trace as many former pupils and staff as possible, not easy by any means! Over 7,500 pupils had attended the school during its 25 year 'life' in Wilhelmshaven. As well as a good few teachers, House Matrons and other staff. We had scattered to the four winds of course - Army kids are nomads and we'd spread all over the UK and the rest of the World.

The Association is still going reasonably strong and we've had reunions every two years in various UK cities - with sometimes hundreds coming along for the weekend (650 for the very first one at Newbury!). Covid didn't help of course, and more and more of us aren't willing or even able to travel the length of the country, depending on the chosen locations - and a fair few have sadly fallen off their perches and are no longer with us.

And, our Monica Tebbs used to attend Reunions for at least a couple of days/nights - right up until her final illness. We used to have the Reunions in pretty smart hotels - where the overnight room rates were more costly than nearby alternate hotels or B & B's. Those of you who joined Darnell, myself and others at the Grand Harbour in Southampton (Sarn and I have met up there with friends too) will have an idea of the sort of hotels and the room rates charged, that TWA Reunions are held in. We used that hotel as we needed a decent sized Main Function Room and location - for between two and three hundred people for a start. And Monica was careful with her pennies so she never stayed in the Reunion hotel overnight.
On one such weekend, a pal from school days called Rod - RIP my friend (who had been the love of another school friend's life - so we were just pals, right?) and I found out that she was staying in a pretty seedy end of the chosen Reunion city and also that she was walking to and from the Reunion venue, alone and at times in the dark. So, on the more formal Saturday evening we collared Monica (as much as you dared to 'collar' such a formidable lady) - and said that that on no account was she to walk back to her hotel alone - Rod and I would go with her. Her lips were pursed as she stalked away muttering that she was being 'treated like a child'. All we had was her safety in mind of course.

Anyhow, Monica then began a game of cat and mouse with Rod and myself by taking great delight in 'working the room' and speaking to as many different people as possible - always with us loitering nearby. I even followed her to the ladies at one point and hid behind a pillar in the hallway to make sure she didn't make a run for it. As the evening wore on we noticed signs that Monica was preparing to leave - the handbag was firmly over her arm and she was going to try and race us to the exit. To do that, she had to pass our table so both Rod and I positioned ourselves ready to bring her down in a tackle - metaphorically speaking.
However, she turned the tables on us as she approached - by pronouncing very loudly that we were 'not to bother her and that she had a perfectly good pair of legs of her own'. Heads at the other tables turned and stared when Monica's familiar 'schoolmarm voice' rang out loud and clear.
And that's when I to this day think a red fog of insanity descended upon Rod because, quick as a flash and certainly before engaging his brain before his mouth he replied - 'Miss Tebbs - we are just going to accompany you. Not give you a piggyback ride to the hotel!'.
OMG, to this day I swear that you could have heard a pin drop and the sound of horrified gasps of ex-pupils, my eyes were out on stalks in sheer terror and Rod blushed bright red as if we were back at school, as pals, trying to set up the 6th Form Social Club, (OMG, another memory coming!). We stood there like a couple of naughty kids - waiting for the eruption. And waiting....................

............... And you know what we got? Monica with her eyes twinkling, trying to suppress an outbreak of the giggles as she practically squeaked 'Alright then, you two win, this time. But, I want 100 lines from both of you for insubordination!'.
We walked with Monica in the centre, back to her hotel arm in arm, one on either side and it was such a precious time. She bade us a formal goodnight at the front door of her chosen lodgings and sent us off back into the night with the words 'Mind you two, behave'. ☺

They certainly broke the mould when they created dear Monica!
PS. One of our earliest Reunions was back in Wilhelmshaven - and much of the school was still standing, unoccupied but made accessible for us. We had such fun and more than a few adventures - to be retold in a further 'Wednesday Waffle' - or perhaps even more than one.
I spent most of that long weekend in tears - some of it was pure emotion but a lot was due to the endless laughter and crazy things that seemed to happen, almost 'on cue'. And yes, there was a hockey match - men versus the ladies - and we terrified as well as beat them!
And of course, our Monica was there, still very spritely in those early days.
I hope my love and tenderness for past times isn't in any way a problem for you. I've always written true tales from my heart and will do so when I can. Come back if you wish - you will be so welcome. xx